Regular price
$200
Sale price
$200
Unit price
per
Sale
Sold out
Materials

Blade Material: 1095 & 15n20 Hand-forged Damascus
Hardness: 58 HRC
Handle Material: Stabilized African Sapele

Dimensions

Blade Length: 8"
Handle Length: 5"

Care Instructions

Damascus steel has a high carbon content which gives it a long-lasting edge. However, the carbon makes it susceptible to rust when it is subjected to moisture. To avoid this wash your knives in warm water with any standard dish soap and fully dry with a fresh towel. Once dry take a cloth or paper towel and coat the knife with oil. We recommend Mineral Oil as it is cheap, food-safe, and does not spoil. Any cooking oil will do the job short term however it is not recommended for long storage times due to spoiling.

If your knife ends up with some rust on it, don't worry! It's an easy fix!

On a fresh blade rust can form within minutes, and it can be a scary sight but don't lose hope yet! If rust appears, rub the blade down with apple cider vinegar or lemon juice, wash with warm soapy water, hand dry, then oil the blade as normal. Over time your knife will develop a patina and will become more lenient to moisture. High Carbon Damascus does require a bit more care than your grandmas bread knife, but the quality, performance, and user experience make it more than worth it!

Here's some quick tips for your reference.

-Wash in warm soapy water and dry immediately.

-Use mineral oil to coat the blade before storing.

-If you get rust, vinegar will fix it.

-Do not store knives in the leather roll for long periods of time, the leather can hold moisture against the blade. If you have to do it, apply a heavy coat of oil before storing.
Shipping

We ship orders out from our Nashville, TN production facility on Monday, Wednesday, and Friday, every week! All domestic orders are shipped through UPS Ground with a 2-5 day delivery. International orders may take 14 days or longer due to customs. Our goal is to get your package to you as quickly as possible. Times may vary during holidays. 

Typical processing time is within 2-3 days unless otherwise specified on this specific product.

All PO Box deliveries are shipped through USPS. Typical delivery time varies but could be up to 14 days domestically. 

Ordering personalized items will add 3-5 business days to the processing time of your order.
This knife is sure to impress your guests and keep your kitchen looking classy. Each knife is hand forged with the user in mind. We have taken customer feedback directly to our forge so we can ensure each knife performs flawlessly, looks amazing, and feeling comfortable for extended periods of use. The Lotus boasts high-end materials that will not fall apart. The handle is made of Sapele wood that is sourced directly from tropical regions in Western Africa. We use a combination of 1095 & 15n20 Steel. We aim for a hardness of 58 HRC to provide the perfect balance of sharpness and durability. A custom-fit leather sheath is included for safekeeping. The 8" chef is the perfect knife for literally every cut that needs to be done in the kitchen. If you would rather go for the full set, click here.
Your knife will arrive with a layer of Food Safe Renaissance Wax and Mineral oil.
*As with all Folded Steel knives, these are high carbon steel and must be hand-washed, dried promptly, and coated with a thin layer of oil (mineral, vegetable, etc.) after use. With proper care, these knives will last for many years to come.
View full details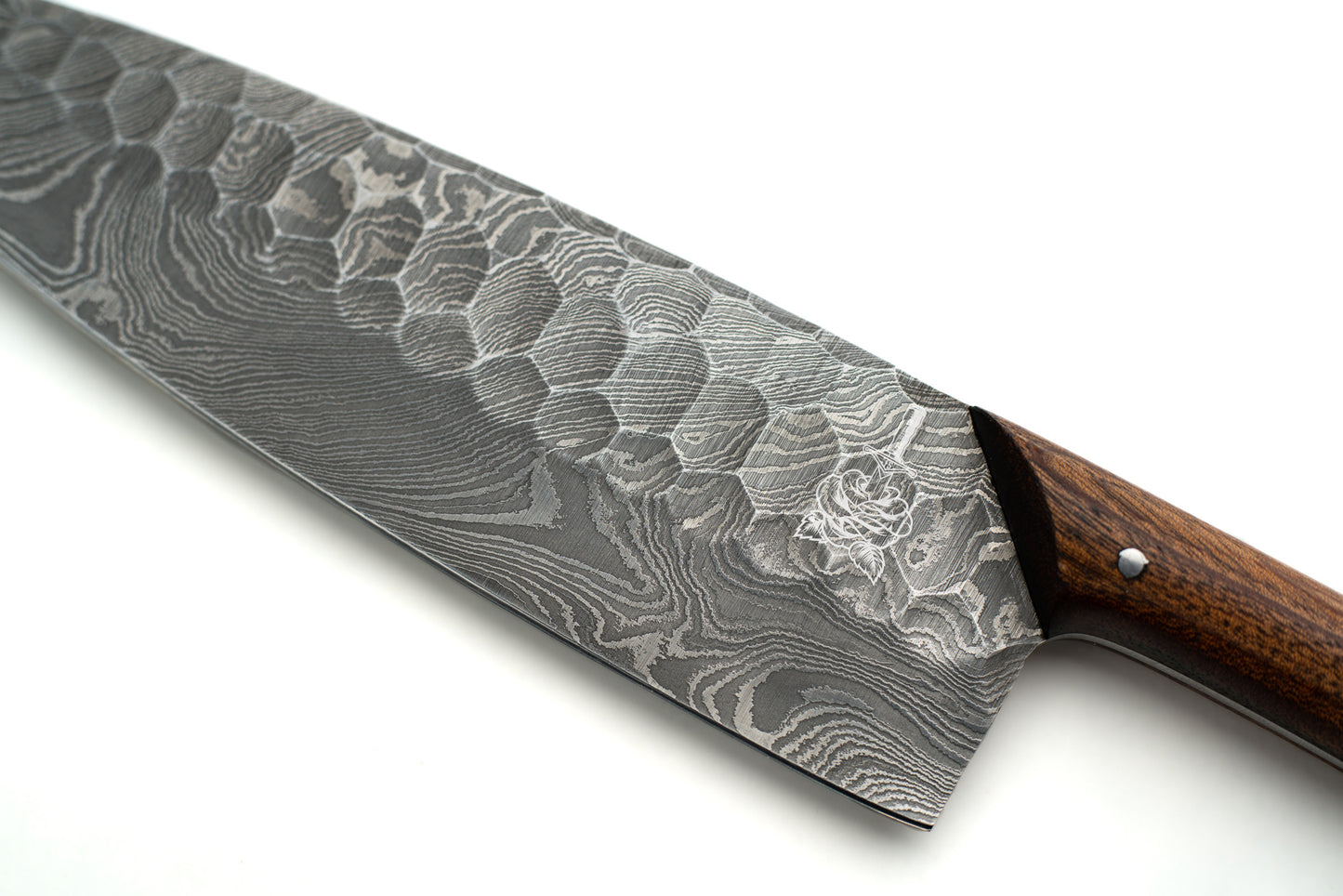 FRESH NEW OPTION
Personalize almost any product we offer!
Engrave a name or graphic (on applicable products) and make it truly unique and yours. We use an Epilog 80 watt industrial laser to engrave your products with the highest detail available on the market!
96%
of reviewers would recommend this product to a friend
Beautiful but dull
In my past experience purchase money chef knives. I've have been a chef for many years. I have had much less expensive knives that had a much better edge. Something is beautiful should also be able to perform right out of the box. Love the looks but unhappy with its performance. I never sharpen my knives on a stone I keep them pristine I usually just steal them and occasionally a slight sharpening I've had knives for 20 years used at least once a week that are sharper. No disrespect I'm sure once it's sharpened it will be amazing. Don't let my experience deter you from this purchase it is a showpiece
Super fast shipping
Wow my knife came the day after I ordered it. It is beautiful and works great!
Really Nice
It's a gift for my brother in law so I haven't used it but it feels really well made and I think he is going to love it. He has a few other folded steel knives he likes a lot.